STS PTM Programmable 4-20 mA Pressure Transmitter Series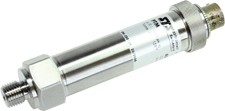 The PTM series is a high precision pressure transmitter, fully programmable over a dynamic range of 4:1 based on the full scale selected. The digital compensation provides high accuracy and general performance including linearity, hysteresis, repeatability and thermal effects while still providing a conventional 4-20mA 2-wire output for industrial and process applications.
Specifications
Total Accuracy: ≤ ± 0.15% FS
Compensated temperature: -40 to 185°F
Full scale ranges from 1 to 15,000 psi
Gauge, absolute or sealed gauge
Turn down ratio 4:1
Adjustable response time
Typical Applications Include:
Test and measurement - Industrial process monitoring and control - Test benches and calibration - Automotive test - Engine test
Request a Quote
Get the information & pricing you need—PMC is here to help. Call us at (203) 792-8686 or fill out our form.
Get Started