Seal Gauge and SAN Seal Gauge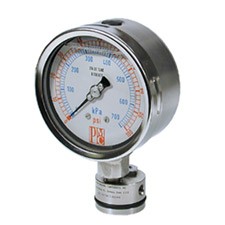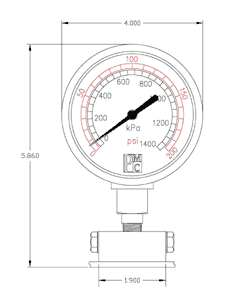 PMC Seal Gauges accurately measure pressure in industries where viscous materials are processed. The PMC design permits the diaphragm to be installed flush with the inside wall of pipes 3" or larger. This feature avoids the pocketing problems usually encountered with conventional seal gauge systems. The easy-to-read, all-stainless steel gauge is equipped for external damping to promote longevity. Gauges can be removed and exchanged or re-installed without loss of seal oil. Each gauge is equipped with a proven PMC transmitter and can be bottom or back connected for ease of visibility.
Specifications
Ranges: 0-300 PSI
Flush-mount design
Small 1½" diameter transmitter
Fits 3" diameter or larger pipes
4" stainless steel gauge, easy to read
Built in gauge damper
316L stainless steel on all wetted parts
PMC Seal Switches include a NEMA 4 rated enclosure and adjustable ranges.
Request a Quote
Get the information & pricing you need—PMC is here to help. Call us at (203) 792-8686 or fill out our form.
Get Started