Flange-Mounted Adapters, PVC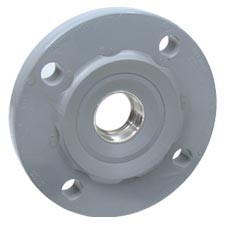 PMC Order Codes: SAN Flush-Mount Design
LT SAN-PVC 1" Flange
LT SAN- PVC 1.5" Flange
LT SAN-PVC 2" Flange
LT SAN-PVC 3" Flange
LT SAN-PVC 4" Flange
Specifications
150 lb PVC flange with flush-mounted SAN process connection
Designed for applications below 30 PSIG and 140º F (50º C.). Excellent corrosion resistance when paired with Transmitter with Tantalum diaphragm and Hastelloy C Retainer Ring.
Sizes: 4", 3", 2", 1½" and 1"
LT SAN-PVC 1" Flange
LT SAN- PVC 1.5" Flange
LT SAN-PVC...
Request a Quote
Get the information & pricing you need—PMC is here to help. Call us at (203) 792-8686 or fill out our form.
Get Started