ATM/GR Pressure Transmitter with Dual Switch Points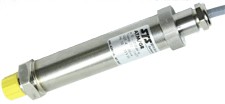 The ATM/GR series is a precision pressure transmitter based on the STS well proven ATM 23 series but incorporating two independent switch outputs adjustable over the full range of the transmitter. This transmitter with its excellent long term stability is capable of providing safety features in a wide range of industrial or process applications where pressure or level limits are critical.
Specifications
Accuracy: ≤ ± 0.1 % FS
Full scale ranges from 1 to 15,000 psi
Gauge, absolute or sealed gauge
0/4 to 20 mA Output
Operating temperature: -40 to 185°F
2 Switch outputs, 0 to 100% adjustable
Typical Applications Include:
Machine Installations - Industrial Process Monitoring and Control - Heating and Ventilation - Hydraulics - Test and Calibration System
Request a Quote
Get the information & pricing you need—PMC is here to help. Call us at (203) 792-8686 or fill out our form.
Get Started