STS TM Passive (Millivolt) Transducer Series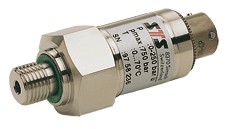 The TM series is a precision passive pressure transducer offering high performance and rugged flexible design for a wide range of industrial and OEM applications. The transducer is based on STS piezoresistive sensor technology with 20 years proven history. Low current consumption and pulsed operation make this an ideal pressure transducer for remote applications for long term operation and where limited power is available. The TM is ideal for the OEM looking for good price/performance and customer/technical support.
Specifications
Full scale ranges from 1 to 15,000 psi
Gauge, absolute or sealed gauge
High overload: 3 x full scale
Operating temperature: -40 to 300° F
Typical annual stability of 0.1%
Typical Applications Include:
Machine control - Environmental monitoring - Test and calibration system - Remote monitoring applications
Request a Quote
Get the information & pricing you need—PMC is here to help. Call us at (203) 792-8686 or fill out our form.
Get Started