Environmental Safety Warning System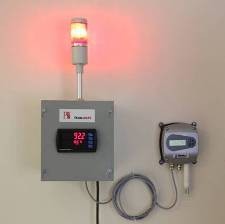 Therm-Alert is a very flexible and customizable sensing and alarm system intended to warn employees and management when temperature or dew point in working areas reach dangerous levels.
Specifications
Fully configurable to customer needs
Single warning light, or multiple stack lights
Displays and annunciates Temperature, Dew Point, RH, or any combination
Customer programmable set points
Integral or remote sensors
Therm-Alert will warn employees and managers when environmental conditions reach dangerous levels.
Request a Quote
Get the information & pricing you need—PMC is here to help. Call us at (203) 792-8686 or fill out our form.
Get Started