Dri-Box Cable Termination Enclosure (Maintenance-Free)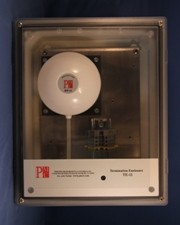 TE-11 Cable Termination Enclosure. This unique, exclusive PMC design provides a maintenance-free single termination solution with multiple options, which include Surge Protection, LCD Display and Remote Electronics.
Specifications
Provides easy and maintenance free installation
NEMA 4X, UV Resistant, Polycarbonate
Moisture Protection Reference Volume (PMC Exclusive)
Accepts Wide Range of PMC Accessories
Surge Protection (Lightning Arrestor) Option
Remote Electronics Option
Termination Enclosure for Depth, Level and Pressure Transmitters, Submersible Transmitters
Request a Quote
Get the information & pricing you need—PMC is here to help. Call us at (203) 792-8686 or fill out our form.
Get Started