New Products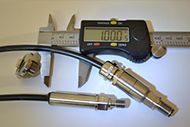 PMC is constantly introducing new products for the measurement and control of pressure, level and other measurands. Please check back with this page for details or send us your details and we will send you information on new developments.
---
The ASUH Series of high performance sub-miniature pressure transducers have been designed for demanding installations in motorsport and on-vehicle automotive applications where space is extremely limited. This new design utilizes miniaturized hybrid components which allow savings in size and weight. The transducer has an enhanced performance at elevated temperature and is optimized for extreme installations such as on-engine or transmission.
Typical applications include: Oil - Fuel - Coolant - Boost - Water - Brakes
New Pressure Sensor for Test Applications - ATM.mini
The ATM.mini pressure transmitter is a high performance pressure transmitter suitable for use in rugged, high vibration environments from -40 to +255ºF. The ATM.Mini provides a 2-wire, 4-20 mA or 0.5 - 4.5 VDC analog output within a lightweight housing of 0.69" diameter. With a total error band of only 1.2%FS in a temperature range of -40 to 255°F the ATM.mini can cover a large area of test applications.