STS Datalogger for Depth/Level Measurement with Conductivity Module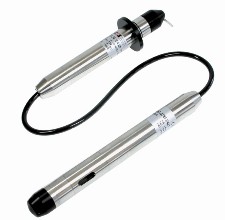 The DL/N series is part of a comprehensive range of transmitters specifically designed for the long term monitoring of ground water, wastewater and tank level measurement. The Series 70 provides a sophisticated datalogger which includes the monitoring of level, conductivity and temperature downloadable via an RS485 interface. Features such as Kevlar strengthened cable, titanium, ballast weights, etc. broaden the installation opportunities.
Specifications
Fully Submersible, 1" Diameter
Ranges: Scale (Zero based) 0-40" WC to 0-360 psig other ranges and pressure units can be specified
Accuracy: 0.1% & 0.25%
Material: 316L SS or Titanium
Measuring interval from 0.5 sec - 24 hrs
Conductivity with temperature
Data memory for up to 500,000 measurements
Internal lithium battery can be changed on site by the customer
Typical Applications Include:
Deep wells, lakes, dams, bore holes and reservoirs - Surface water, irrigation canals and rivers - Wastewater and sewage treatment plants - Tank level measurement
Request a Quote
Get the information & pricing you need—PMC is here to help. Call us at (203) 792-8686 or fill out our form.
Get Started