Seal Switch and SAN Seal Switch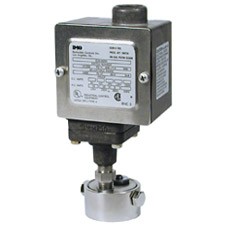 PMC offers a Barksdale Pressure Switch coupled with a proven PMC transmitter which permits flush installation with the inside wall of pipes 3" or larger. This feature avoids the usual pocketing problems encountered with conventional systems. The Barksdale Switch incorporates a UL-listed single pole double throw snap-action switching element and is NEMA 4 rated with adjustable ranges.
Specifications
Ranges: 0-250 PSI
Flush-mount design
Small 1½" diameter transmitter
Fits 3" diameter or larger pipes
Barksdale pressure switch
316L stainless steel on all wetted parts
NEMA 4 rated with adjustable ranges
PMC Seal Switches include a NEMA 4 rated enclosure and adjustable ranges.
Request a Quote
Get the information & pricing you need—PMC is here to help. Call us at (203) 792-8686 or fill out our form.
Get Started