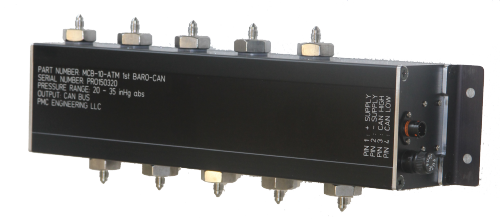 The MCB Series is based on the standard ATM 1st series precision pressure transducers for which the full specifications are available on datasheet 10.00.0324.D-305. The specific MCB detail is based on the barometric range of 20 to 35"HG. Up to 10 individual ATM 1st transducers are housed within the aluminum enclosure and the output is provided via a 10 channel CAN BUS. PMC can provide multi channel systems based on any range of the ATM 1st transducers either same range or mixed. All MCB are custom to application.
Specifications
Pressure Range: 20 to 35"HG absolute
Accuracy Static: 0.05% FS BSL (0.0175"HG) Includes linearity, hysteresis and repeatability.
Sampling Frequency: Up to 500 HZ
Compensated Temperature Range: 50 to 150ºF
Output: CAN BUS 16 bit
Typical Applications Include:
Test & Measurement - Engine Dynos - Wind Tunnels - Test Benches - Calibration Systems
Request a Quote
Get the information & pricing you need—PMC is here to help. Call us at (203) 792-8686 or fill out our form.
Get Started