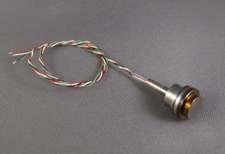 The VB series has been designed specifically for those applications where very high pressures up to 45,000 psi are to be measured, and temperatures might be as high as 500°F. Typical applications range from oil field instrumentation, including MWD down hole, to turbine engine monitoring. The performance is achieved by using the very latest processes in thin film stain gauge techniques and is offered without active amplification or compensation.
Specifications
Accuracy: ≤± 0.1 % FS BSL
Ranges up to 45,000 psi
Continuous operation at 260°C or 500°F
Thin Film Technology on Stainless Steel
Output: 5-10 mV from 5V dc supply
Small Size: 1/2" Diameter
Request a Quote
Get the information & pricing you need—PMC is here to help. Call us at (203) 792-8686 or fill out our form.
Get Started