Moisture Barrier Breather Vent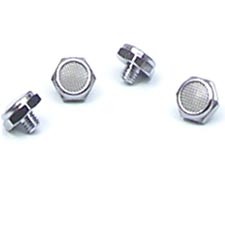 This small fitting provides a moisture barrier and ventilation for devices requiring atmospheric pressure. PMC developed this high-quality component as a solution for their instrumentation housings. Over a short period of time, this vent has established itself as an excellent off-the-shelf product. Current customers include major instrumentation companies, GPS system and junction box manufacturers. This unique item is continually finding a real need for users in many industrial applications and can be designed to meet individual needs and specifications.
PMC Order Code: VF/SS
Specifications
Exclusive PMC Compact Design
2 Ply Stainless Steel Screen
Nickel Plated Brass
PTFE Filter
Low Cost
Request a Quote
Get the information & pricing you need—PMC is here to help. Call us at (203) 792-8686 or fill out our form.
Get Started